Year 6 Transition to MCS
WELCOME TO MONMOUTH COMPREHENSIVE SCHOOL
CROESO I YSGOL GYFUN TREFYNWY
To our new students who will start in September: we are delighted that you are joining us, and we are looking forward to welcoming you to our fantastic school. We all work on the principle of Work Hard, Be Kind. You will find that we are a very caring and kind school. We are also a school that has very high expectations of you all, both in your academic work and in your wider progress as you start this exciting new journey in your life. We are all looking forward to getting to know you.
To parents of our new students: if this is your first experience of MCS then welcome to our school community. If you already have children at our school then you will already know our values and our approach to learning. We hope that this website gives you all a good idea of what to expect. Some details of our events might change, but our core intent will always remain the same: to enable your child to make a positive transition to MCS, so that they are happy and successful throughout their time with us.
I look forward to meeting you and to welcoming you to our school community in person.
Hugo Hutchison
Headteacher
CROESO / WELCOME

To our future Year 7 students
I look forward to welcoming you to Monmouth Comprehensive School next September, if you choose to join us
I understand that transition from primary to secondary school is a very exciting time, and that new experiences can also feel challenging for many of us. At Monmouth Comprehensive School, we are eager to support and guide you through the next steps of your school career.
I hope this website offers some insight into life at MCS and allows you to explore some of the stimulating opportunities which could soon be open to you. It provides a chance for you to discover the range of subjects that you will learn, get to see the different areas of the school and see some of the many friendly student faces.
Miss Carly Hagerty
Head of Year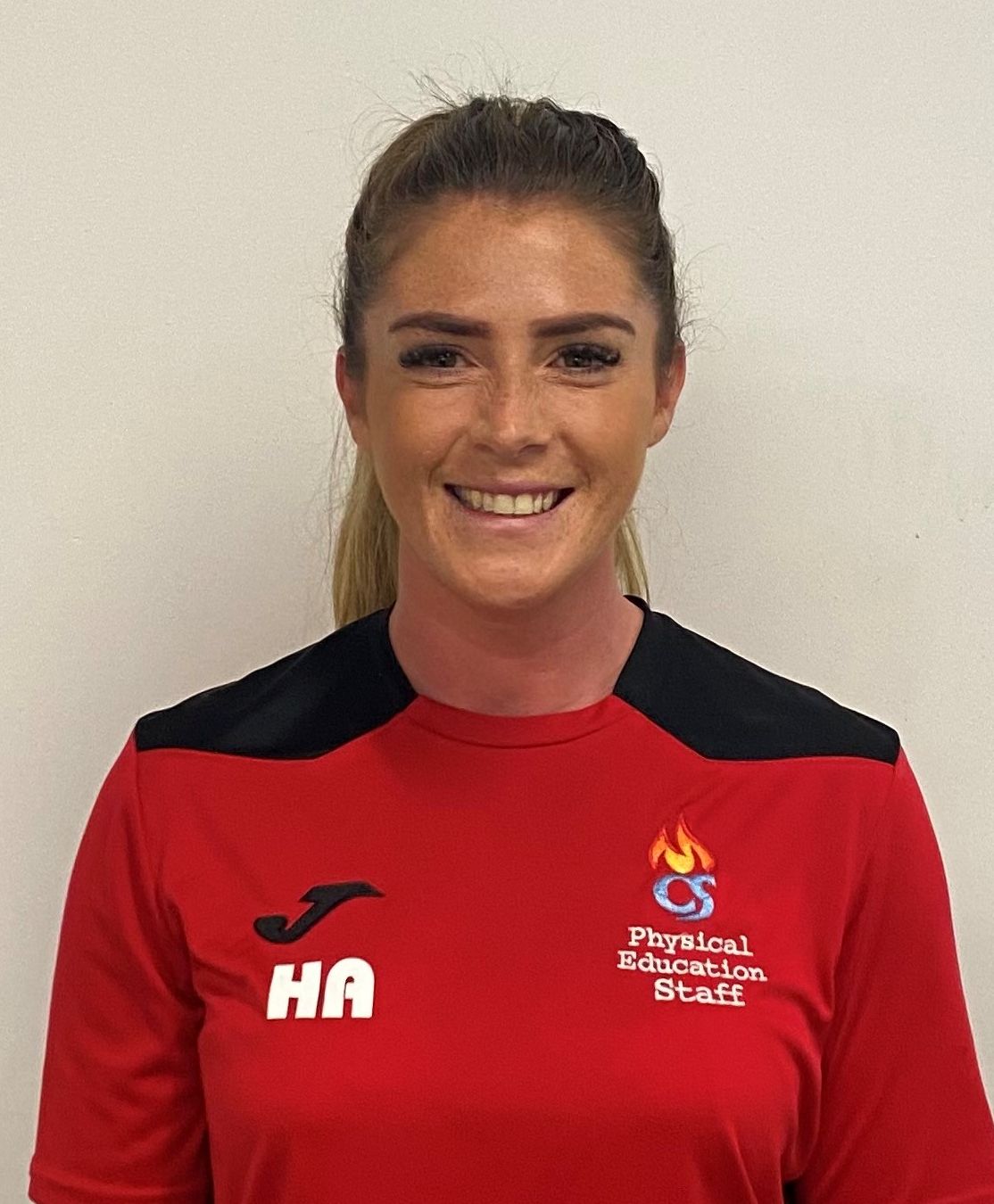 Hello, we are the Sixth Form Student Leadership team, Sam, Edie, Phoebe and Matthew, We are looking forward to seeing you at the Open Evening on Thursday 28th September but if you would like to click on the link below, we'll take you on a quick tour around the school.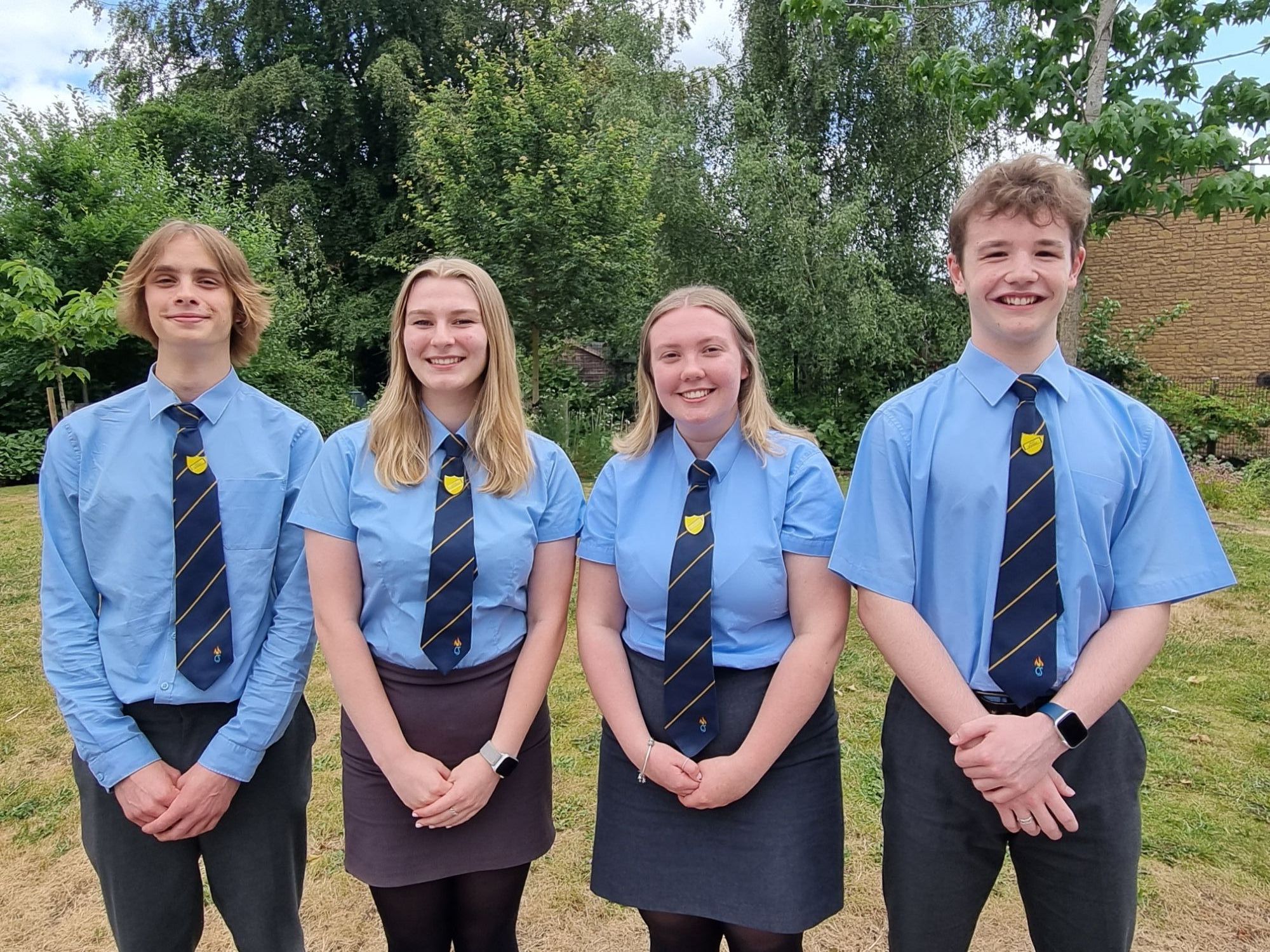 Alumni
I attended MCS from 2010 to 2017. During my time at MCS, I rowed, was in school theatre productions, and participated in student councils. The time at MCS that I loved the most was Sixth Form, when I was able to focus on the subjects that I really enjoyed, especially History and English. I was ambitious to go to Oxford or Cambridge and was lucky that the school had the resources to help me with that process.
In October 2017, I went to Clare College, University of Cambridge, to study History. I still remember my final results day at MCS very clearly. It was a great and happy day but I do recall it felt a little bittersweet to be faced with the fact that I was moving on from the Comprehensive, where I had been since I was 11. I was awarded a Double First-Class degree. Some of the first people I told were my old teachers from MCS.
My scholarship application to Yale was successful and I am a Mellon Fellow, with two years of funding, in which I will complete my MA in History and prepare to do my PhD, also in History, either in the US or UK.
I get back to MCS as frequently as I can to help with applications to Oxford or Cambridge and am happy to be put in contact with any student interested in studying history at Oxbridge or in the US.
Wulf Scouller
I started Monmouth Comprehensive in 2009 where I stayed until 2016 to complete both my GCSEs and A Levels.
After finishing my studies, I then went on to the University of Birmingham where I achieved a First Class Honours Degree in Nursing. I am now currently working my dream job on a Specialist Paediatric and Neonatal Surgical Unit at Great Ormond Street Hospital. Working through a worldwide pandemic as a newly qualified nurse was a very challenging time, both physically and emotionally however I couldn't be prouder to work for the NHS during this time. For now I'm based in London but in the next 1 year who knows, maybe I will continue my studies to do a masters or even continue my nursing career overseas.
When I look back I can't thank MCS enough for giving me the drive and confidence to work hard to achieve anything I set my mind too and for giving me the knowledge to get me where I am in life today.
Megan Jephcote
Staff at MCS
I have had the privilege of working as the school receptionist for the past 14 years, working alongside a dedicated team of hard working professionals and students.
I have seen students arrive on their very first day of school and then seen them return as mature adults who want to share their successes with the people who made it all possible.
It is a wonderful school to work, learn and be happy in and I feel pride in what we do, who we are and what is achieved here.
Mrs J Jones
Reception
Students at MCS strive to better themselves both in the classroom and in the wider community.

With guidance from their teachers and the school's values, they have the opportunity to grow into young adults who have the confidence to overcome any challenges they may face.
Miss C Harrington
Year 8 Form Tutor
I am very proud to work in a school in which students have so many opportunities to thrive in such a supportive and exciting atmosphere. Every learner is treated as an individual and staff work to develop effective, productive relationships based on mutual respect.

Our results speak for themselves, but what you can't quantify so easily is the impact of our students on the community as they move on to their successful future lives. The skills they develop at MCS ensure they are fully prepared to spread their enthusiasm, empathy, hard work and kind attitudes, acting as a positive force for the future.
Mr J Le Boeuf
Science Department

I am very proud of our Sixth Form students at MCS. We have a strong and well-deserved reputation as one of the very best Sixth Forms in the region. Being in our sixth form is very different from Key Stage 4, and in a short and exciting two years our sixth form students transform themselves, both academically and personally, into a professional student.
We put our students at the centre of taking responsibility for their progress, developing as individuals both inside and outside of our rich and varied curriculum of Level 3 A Level and vocational courses.
Beyond the classroom, Sixth Form students participate in a rich and varied extended curricular programme, including sport, music and the performing arts as well as organisations such as World Challenge and Duke of Edinburgh Award. This programme further enables each to explore their own interests, develop their character and maximise their own unique talents. We support students who are new to our school in establishing new friendships, developing resilience and becoming active members of our school community.
Students have a strong sense of pride in being a member of the MCS community. Opportunities such as being a Prefect or mentoring younger students are fantastic ways to develop leadership skills. Sixth Form students leave us after two years of study ready to make a positive contribution to the wider world as future leaders in their own fields.
When our Year 13 students leave us in the summer of their final year, it is wonderful and rewarding to see that they have developed into responsible, independent young learners who are ready to take on the world.
Mrs C Guest
Sixth Form Director of Learning
Our school philosophy has always pivoted around a very clear and solid philosophy of 'knowing every child' and celebrating every individual success so that all students are capable, well-informed, independent and resilient global citizens.
We pride ourselves on how tangible this philosophy has always been and how it transcends every aspect of our practice and provision - combining a knowledge-rich curriculum which inspires curiosity, awe and wonder with a plethora of learning experiences in which to apply that knowledge skilfully across a variety of contexts.
Our new building has given us the opportunity to build upon these values and extend those learning experiences in a 21st Century environment further enhancing our students' progress and opening up choices for fulfilling, individual pathways for students to lead their lives successfully.
Mrs R Porter
Faculty Lead - Humanities
Key Stage 4
The school is a fantastic place to be and I wouldn't study anywhere else.

Matthew
Y11
Within my Form group, over the past four years, I've been able to develop a strong relationship with my Form Tutor, who I know I am able to go to if there is ever an issue.
Edie
Y11
I have joined the rowing club and it is has been brilliant for fitness, teamwork and competition. The school itself is really easy to navigate and has many open and spacious areas to learn in, both inside and out.
Archie
Y10
Key Stage 3
Since joining the school, the atmosphere, the environment and social aspect of the school is excellent. The one lesson I particularly enjoy is Welsh. This is because of the support from the teachers. I have experienced a lot of progression within this subject.
The environment and the site is incredible. Everyone is always wanting to help you, from finding your way around to your learning. The teachers in Maths, English, Integrated Curriculum, Welsh, PE and Drama are very supportive when a student needs help in class and with homework. The teachers always push you to the best of your ability. One positive experience I have had since joining is being part of a community that helps one another and are really supportive.
Ava
Year 8
My name is Tomi and I am in Year 7 at Monmouth Comprehensive School. I have really enjoyed my short time here and am excited to progress. One of my favourite subjects is Science because I have never done a real practical and this has been my first opportunity and I enjoy Science. I also have enjoyed English here and wish to continue with that in later years. Finally, the teachers have been very supportive and helpful.
Tomi
Year 7
I am really enjoying my time at MCS. The new building is full of resources and one of my favourite areas is the science labs. The lessons at MCS are really enjoyable and the teachers and staff are really supportive and helpful.

Near the end of the summer term, we have Summer Learning. This is an opportunity to do activities you wouldn't normally do. Some of the activities I joined in with were army team building, science experiments and fun drama lessons.
Archie
Year 8
Hello, I'm Charlotte and I am in Year 7. When I had my first day at MCS, I was scared and worried but as the days went on, I realised that there was no need to worry since you get so much support not only from staff/teachers but from the students, too. I enjoy the lessons since they are a bit different to primary school lessons. My favourite is Art since there is a lot of freedom to draw/paint whatever I decide.
Charlotte
Year7
The support in this school is amazing because teachers help you with anything you are stuck with. The site is also amazing, the pitch is massive and fun! The best lessons that I love are PE, Art, Maths and Drama. The teachers are amazing. I started Welsh when I first entered this school. this is why I love this school!
Zahid
Year 8
This school is good because it is big and looks good and I'm in Year 7. The classes are fun and the food is good here. I really like it here and it is fun to walk around and find your classes. I like Maths and Science.
Louis
Year 7
Hello, my names is Nye and I am in Year 8. Here at MCS I have experienced lots of new learning opportunities in the past year such as learning with the new curriculum, including more creative aspects such as the Art and Drama facilities.
Some of the subjects I have enjoyed are Maths, Science and Drama. All the zones of the school are clearly signed so, after a day or two, I knew my way around well. The new school building is very open and the School Council helped design it.
Nye
Year 8
Hi, I'm Zac and I love Monmouth Comprehensive because it is a lovely school and the teachers and the pupils are nice and respectful and the school values are fair. My favourite subject is Maths because it is a great skill to learn. The school site is amazing. The teachers are amazing and they give us loads of support. Summer Learning was great. I come from an English school but I enjoy learning Welsh because it is fantastic to learn.
Zac
Year 8
Governors
I have three children, three personalities and three different packages of hopes and aspirations; all of which have been nurtured and encouraged at MCS. I have been delighted to see my children grow in confidence and character whilst thoroughly enjoying their academic journey.
Mrs P Doody
Parent and Governor
The school welcomes tomorrow's athletes, actors, musicians and artists, future doctors, dentists, mathematicians and civic leaders. We provide a learning experience that nurtures the next generation of builders, engineers, business owners, farmers and pharmacists so they can be their best in an ever-changing world.
Mr A Smith
Parent and Governor
Why I row
I row not only to improve my fitness but to take part in a sport I enjoy with a great community of athletes.
Developing my technique and ability each session is a rewarding experience made even more positive by the club's supportive and success driven ethos, not to mention the great feeling of winning a medal for MCSBC. But, of course, the real reward is apparent at each training session, whether it be on ergs, in a quad or running up and down the steps, where I can feel the squad's progress and pride in the club.
Kezia
Y13
There are many reasons why I row and have chosen to stick at rowing over the last few years that contribute to why I choose to do it compared to on le singular main point.
I originally began rowing as it had always appealed but also because, at the time, all my friends were doing it and I wanted a way of maintaining fitness. I've chosen to continue rowing as I honestly love the sport as, after doing many different clubs, there's a unique mentality seen at rowing that sees people encouraging each other to pursue their goals to the best of their ability. The relationship built up with fellow rowers is then replicated with other year groups throughout the school and, to a degree, other clubs which creates benefits away from the river. Another big part of rowing, and why I row, is because of the many Race days which we take part in as a club as it gives the opportunity to go to, and experience, new places as well as to show skills I've built up leading to that point.

The coaching team are also really friendly and supportive which makes it a great environment to row in. You have the ability to do lots of sessions - although I would want to do more! All round, it's a great club and an amazing sport to be in.
Lewis
Y12
Through rowing I have developed some of my closest friendships, letting us build each other up to achieve our best in a sport we love. Out on the water first thing in the morning is my favourite way to begin a day. The silent hard work that goes on before most people are awake allows me to push my mental and physical boundaries to the limit.
Rowing makes me feel strong in every sense, whether that be giving me the confidence to teach and support younger members of our club or putting everything I have into a piece after a long week at school.
Shona
Y13
Sixth Form
Despite the challenges faced by us all in the past year, I have seen our school community come together and help each other pull through. We have renewed strength and determination to succeed and we can now look forward and feel confident about the year ahead.
The supportive environment has made it a brilliant and positive place to study, where taking responsibility for independent learning is nurtured. In addition, Sixth Form has provided a great opportunity to meet new people from a diverse mix of different schools.
Suzie Paddock
Head Girl - Year 13
I have attended Monmouth Comprehensive for the entirety of my secondary school career and what can I say? It is a community that has enabled me to develop me as a person and truly supported me in readiness for my next steps. I am so glad to be part of such a brilliant school with such happy memories.
The teacher-student relationship is a highlight of the school. The teachers know their students on an educational and personal level. They create a secure and supportive working environment, as well as getting the best out of you.
Rowan Wilde
Head Boy - Y13


Throughout my time at MCS, I have been supported by students and staff. This has allowed me to flourish both socially and academically. The teachers that have taught me have been helpful and encouraging, always wanting to assist in any way they can. Being appointed Deputy Head Boy is extremely exciting and through working with the Student Senior Leadership Team I hope to help others enjoy their time at MCS as much as me.

James Tester
Deputy Head Boy - Y13
Charity Committee
As a Charity Committee, we are passionate about working within our community as well as supporting larger causes such as Children In Need and Macmillan. In recent years, we have branched out into the community, through projects such as our annual Christmas collection for the homeless whereby we encourage students to donate essential items such as socks, hats, scarves, gloves and toiletries which we then sort into gift bags so they can be delivered in and around Newport by the Usk Lions Club. We then donate any spare toiletries to Monmouth Food Bank.
We also look forward to opportunities where we are able to invite our community in to meet with us, for example we invited local community groups for the elderly in to see the dress rehearsal of our school production Billy Elliot, as well as providing them with coffee and cake supplied by our Food Hall staff. We really enjoyed the opportunity to get to know members of our community while giving them the opportunity to socialise and have an afternoon out.
Our school community and our wider community plays a vital role in the work we do, in addition to supporting all of our events and generously making donations be it cake, time or resources, we aim to ensure our community feels supported by us and included in what we do. It is always lovely when we are contacted by local organisations asking for our assistance or ideas and we hope in the coming years to reach out even further into our community and form even stronger relationships.
Charlotte Painter
Charity Committee Chair
Year 13